Connecting People
with Nature
Fuze Ecoteer is a social enterprise on a mission to connect people with nature.
Fuze Ecoteer Outdoor Adventures is a social enterprise that focuses on conservation work. We are a Malaysian registered tour operator with conservation and research experience making us one of a kind in Malaysia.
We believe that people play the most important role in conservation and that is why we believe in educating people of all ages about conservation work by experiencing nature by themselves. In this digitalized age, more and more people forget what it's like to play in the rain, to feel the wind on their cheek and to see stars in the sky. Due to that, we aim to correct this and connect people with nature through our programmes.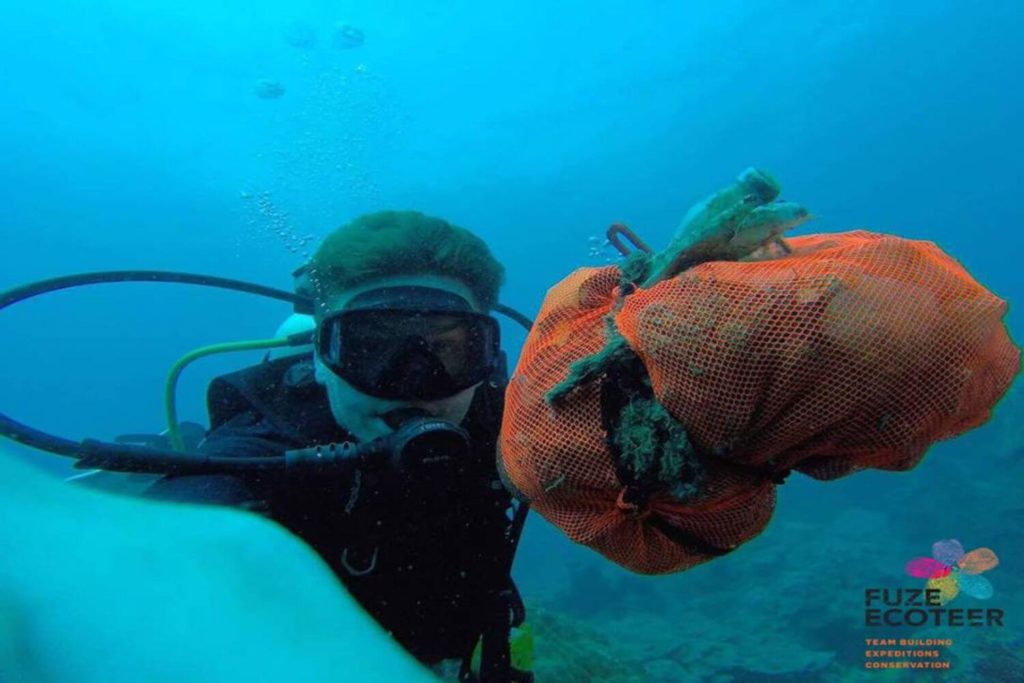 We run 3 of our own projects and partner with 2 other organisations. Our projects and partners focus on community engagement, sea turtles conservation, marine conservation, rainforest research, wildlife conservation and rescue. We invite volunteers from all over the world to join us and to fight for the causes with us. We believe that everyone benefits more when ideas and knowledge are shared and exchanged.

Apart from volunteering, we also involve people in our projects and other great NGOs through school expeditions, university field trips, team building and corporate volunteering programmes. We believe that there is no age limit in learning and that everyone is a life-long learner. It is our belief as well that people learn best when they are challenged, doing things by themselves and most importantly, are having fun! That is why our programmes are always an adventure.
We deeply believe that everyone is connected to nature and that one person's act, impacts the whole circle of connection. Whatever we do as humans come back to us, so, why not make a positive act? For the ones who want to make an impact, to reconnect with nature, to learn and to understand the relationship that we have with our planet, we ask you to listen to your calling and we provide you with an outlet to do so. Connect with nature with us today!
2005: Formation of Ecoteer
Fuze Ecoteer Outdoor Adventures Sdn Bhd or Fuze Ecoteer has a long and intricate history. Before being fully known as Fuze Ecoteer, this organization was started as Ecoteer Malaysia. Ecoteer Malaysia was started back in 2005 and was a platform for conservationists and individuals passionate about volunteering to find a volunteering project suited to their needs and interest.
2009
In 2009, Ecoteer took a big step by managing its first project, the 'Help Our Penyu' project with Bubbles Dive Resort.
2011
However, in 2011, we wanted to expand to have an impact island wide so we facilitated Bubbles Dive Resort to manage their own project and we focused our efforts in the quaint Fishermen's village of the Perhentian Islands. There, Ecoteer saw the potential of the Perhentian Islands, the effects of tourism on its environment and the hardworking community that lives there and thus, the Perhentian Eco-Education Project was born. The local villagers were sceptical but soon warm up to Ecoteer as they work to help and empower the villagers in Perhentian.
2013
In 2013, Ecoteer branched out to different conservation causes and started Merapoh Conservation & Community Project in Pahang which focused on rainforest and wildlife conservation as well as helping the Bateq people. We also started partnering with the Wildlife Rescue Centre in Yogyakarta, Indonesia that works to rescue and rehabilitate wildlife caught in the animal trade. Now, not only is Ecoteer focusing on the community in working on marine conservation, it is also working on rainforest and wildlife conservation and rescue.
But the journey does not end there. Ecoteer understands the magic of Perhentian and wishes to protect it even more; 2 ex-volunteers started the Blue Temple Project. Throughout these years, Ecoteer take in volunteers in a way to educate more people on their conservation work and because it truly believes that it takes a community to ensure the success of conservation work.
2015: The Birth of Fuze Ecoteer
Ecoteer's passion in educating and connecting people back to nature leads to the birth of Fuze Ecoteer in 2015 whereby Fuze Outdoor Adventures and Ecoteer decided to fuse together and become one – Fuze Ecoteer Outdoor Adventures Sdn. Bhd.
Fuze Ecoteer now not only accepts volunteers but also leads school and university programmes, team building and corporate volunteering programmes – always with a spoonful of nature and a whole lot of adventure. Having our programmes loved by all has made the expansion of various activities possible.
Not only that, 2015 is also the year when the Perhentian Turtle Project was born. Moving forward, the Blue Temple Project was officially taken over by Fuze Ecoteer and from then on is known as the Perhentian Marine Research Station. The three sister projects of the Perhentian Islands, making up the Perhentian Island Conservation Project (PCP) is now complete.
2019
In 2019, Ecoteer Malaysia was officially dissolved and become fully managed by Fuze Ecoteer.
In that same eventful year, Fuze Ecoteer facilitated the establishment of Merapoh Conservation and Community Project from its own project into a non-governmental organization (NGO) that is from then on known as the Malayan Rainforest Station or MRS for short.
Present Day
Looking ahead, Fuze Ecoteer hopes to build and further strengthen relationships with other organizations that are working for the same goals. We will always continue with the ethos that conservation starts with people and that connecting people to nature is the best place to start.